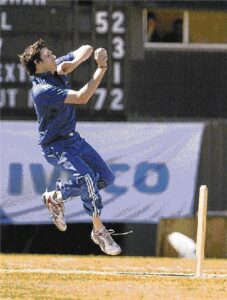 MONASH sports clubs claim they face massive losses and possible extinction under a State Government plan to raise liquor licensing fees.
South Eastern Metropolitan Region state MP Inga Peulich recently told Monash license-holders of the Government's plans to increase the overall pool of fees to $35million in 2010, a jump of $20million from this year's total. According to figures released to the Journal, Labor's proposed 2010 fees will cost clubs anywhere from $355-$1420 each, depending on the type of license they decide to purchase.
MsPeulichcritisised the Government for failing to consider the impact the increased licensing fees could have on local sports clubs.
"What is being concealed is a massive revenue raiser for the government, rather than the implementation of effective measures and regimes. Some of the biggest victims of this proposed increase will be sporting clubs, whose purpose is to help young people remain active and healthy. These clubs have nothing to do with violent behavior in entertainment precincts."
Waverley Tennis Association treasurer Lindsay Coster believes clubs receiving $3000-5000 from alcohol sales per year would have their small profits wiped out by the increased license fees.
"Some clubs will drop their license, which will remove a social aspect in the club and [cause] a further decline in members.
"A large number of clubs are struggling, memberships are down and committee members are hard to find. This increase will only lead to further downward pressure, closures or mergers.
"We would hope that the Government will see this situation as unfair and not punish small, suburban tennis clubs, who are removed from the alcohol-fuelled problems in the city and various nightclubs."
Outgoing Mulgrave Football Club president Gail Hewitt said the division two EFL grand finalists would be forced to raise prices across the board to cover the proposed fees.
"There will be greater registration fees, higher drink and food prices on game day. Everything will go up to cover our costs and keep us functioning as a club.
"We've never had any rowdy behavior or alcohol-related problems. If it got to the extreme of us not being able to sell alcohol, I think we would lose supporters."
Delivery stride: Above, Mark Carroll toiled hard against reigning premier Ringwood on Saturday. Right, Hawk paceman Lukas Hoogenboom just misses a caught-and-bowled chance from AyrtonDohmel.Picture: Wayne Hawkins