DOCTORS were fighting last night to save the left arm of Nelson Bay woman Lisa Mondy after she was viciously mauled by a shark at Jimmys Beach yesterday.
The 24-year-old fell while riding a wakeboard off the popular swimming beach in Port Stephens about 1pm when the shark attacked several times, dragging her underwater at least twice.
'Strong' Lisa stable after horrific shark attack
"[It] grabbed hold of her face," Westpac Rescue Helicopter spokesman Glen Ramplin said.
"It's got her a second time on the left upper arm and it's pretty much taken her arm off.
"The bite on her arm is all the way to the bone."
MsMondy, originally from Wauchope, was wakeboarding with a group of friends and colleagues from Port Stephens Parasailing, where she works during the week.
Owner Ian Cutbush said his son had been wakeboarding with MsMondy using one of the company boats when the attack happened.
Ambulance NSW said MsMondy suffered "very severe" arm injuries as well as serious wounds to her head, shoulder and the right side of her neck in the attack.
Friends rushed the water sports enthusiast back to the public wharf at Nelson Bay where she was met and treated by paramedics.
The Westpac Rescue Helicopter flew her to John Hunter Hospital, where she arrived conscious and was able to smile and wave to waiting media.
The hospital listed her condition last night as stable.
Frank Future, the director of Imagine Cruises where MsMondy works on weekends, described her as a "very gutsy girl" who was well liked.
"She is into everything, horse riding, snorkeling, wave-riding," he said.
"She's a tough kid covered in scars from when she has fallen off horses.
"She is an extraordinary musician, a songwriter and guitarist. She's very strong, that strength is going to help her out in recovery."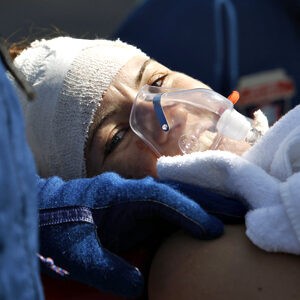 It's not known what species of shark attacked MsMondy.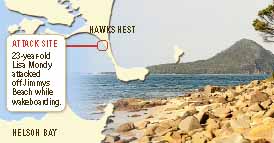 STRONG: Shark attack victim Lisa Mondy.
Cruise operator Frank Future at Nelson Bay yesterday.