THE Oakleigh Chargers defeated the Western Jets by 25 points on Saturday to set up for a possible finals berth.
Kicking with the wind in the first quarter, the Chargers started slowly and the Jets made the first half of the quarter a tight and physical contest.
However, with Chargers on-ballers Sam O'Sullivan, Daniel Hannebery and Michael Thompson lifting their work rate, the ball was in the Chargers' scoring zone through the second half of the quarter.
Late goals to Harry Croft and Billy Burstin gave the Chargers a small lead at the first break.
The second quarter saw the game continue to be played in a tight and scrappy manner.
The back line led by Matthew Wall and James Kennedy was working well and made scoring difficult for the Jets. At half-time the game was even with both teams struggling to develop any run and creativity around the ground.
After the main break, the Chargers started to take some risks and run with the footy, resulting in goals to Richard Jones, Jayden Hoegel and Zac Clarke.
Onballer Hoegel was continuing his fine season and with support from other running players Mitch Woods and Josh Muling, the Jets could not match the Chargers through the third quarter.
In a low-scoring game the lead was out to almost five goals at the final break.
Against the wind in the final quarter the Chargers continued to attack. Two more goals to Hoegel and goals to O'Sullivan and Scipione completed a strong victory for the Chargers.
The result was pleasing given that the five Chargers players who represented the Vic Metro team in Wednesday's AFL under-18 championship grand final did not play on Saturday.
Mat Kilpin, Xavier Gotch, Jordan Lisle, James Strauss and Luke Shuey will all be back in action with the Chargers through the next few weeks of the competition, which will strengthen the team further.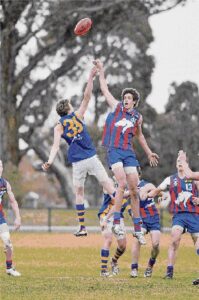 Big men fly: Oakleigh ruckman Matt Wall flies in a centre bounce contest against the Western Jets.
Charged up: Oakleigh Charger Luke Edwards kicks on the run.